Ecommerce from Phuket Web Media
A Phuket Web Design and Development Company
WooCommerce is the most popular WordPress Ecommerce plugin. And it's available for free. Packed full of features, perfectly integrated into your  WordPress website.
[vimeo id="60440851″ align="center" mode="normal" autoplay="no" maxwidth="600″]

Payments
Woo Commerce comes bundled with the world's leading online payment system – PayPal (accepting credit card & PayPal account payments), BACS, and Cash on Delivery. They also have many types of payment gateway extensions available -some free and some for a small price.
Shipping 
Open your online shop with the options of offering free shipping, or flat rate shipping. Make light work of distribution logistics, using table rate shipping, and choose from a variety of shipping extensions
Inventory 
Woo Commerce makes managing your digital and/or actual products a breeze with an intuitive User Interface. Relax in the knowledge your online shop will scale with your growth. Create virtual store managers to handle the day to day inventory of your online stock
.
Reporting 
Keep a close eye of incoming sales & revenue, inventory levels & general store performance, all from the WordPress admin dashboard. Woo Commerce has a number of easily generated report options to keep everything neat and tidy.
Marketing 
Woo Commerce gives you the option of running coupon campaigns offering discount
options, usage limits & product / user restrictions as well as free shipping.
Tax 
Tax is the last thing you need to worry about when creating an online shop. Woo Commerce have made it simple. Configure your tax settings with different tax classes & local tax rates.
Woo Commerce with Phuket web Media
Strength & flexibility
WooCommerce is built using WordPress best practises both on the front and the back end. This results in an efficient, robust and intuitive plugin.
Smart dashboard widgets & reports
Maintain a birds-eye view of incoming sales and reviews,inventory and general selling performance. Statistics and reports are all available from your WordPress admin dashboard or simply head over to the reports section to view your store's stats in more detail.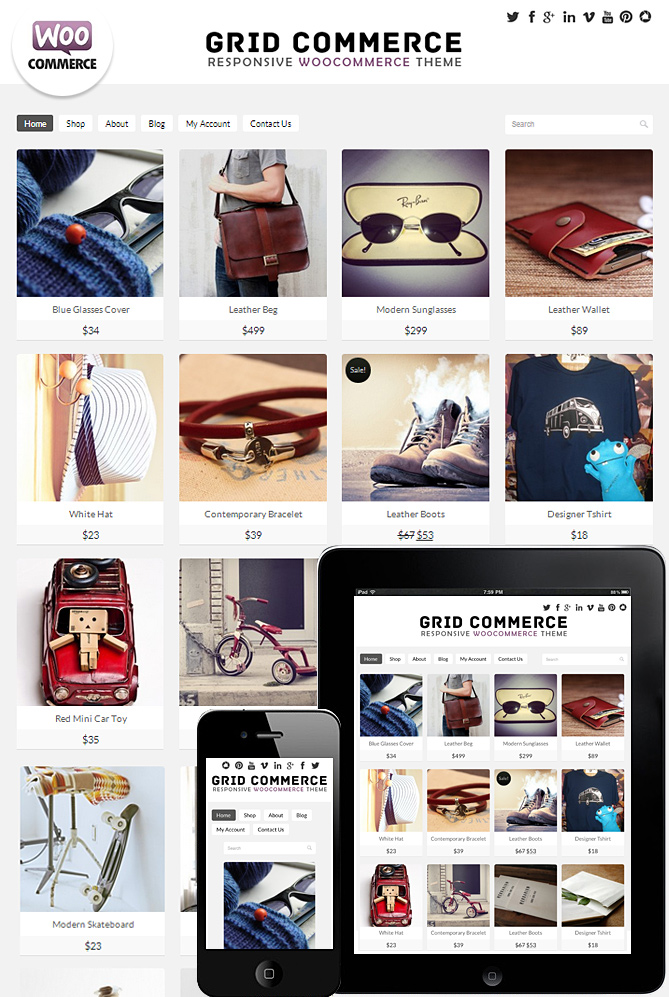 Customizable
Your business is unique, your online presence should be too. Let Phuket Web Media choose one of the most suitable eCommerce themes available. Add your personal touches using the built in shortcodes and widgets.
WooCommerce works with most themes, including the default WordPress themes. If you need help getting your theme working nicely with WooCommerce ask Phuket Web Media to assist you.
We always recommend  a tailored WordPress eCommerce theme designed specifically to be used with WooCommerce. Be sure to browse the official WooCommerce Themes on the WooComerce website.
Features
It doesn't matter if you are running a megastore selling thousands of products, or a just a little ol trader selling hand-made arts and crafts. Phuket Web Media and WooCommerce have you covered.
Payment Gateways and Shipping Options are important to online stores – WooCommerce comes complete with many popular options including PayPal Standard (for accepting Credit Card and PayPal account payments), Simplify Commerce (a US gateway backed by Mastercard), BACS, Cash on Delivery, flat rate shipping, and free shipping.
Premium Extensions
Does your shop require a particular payment gateway? Perhaps some additional shipping methods? WooCommerce has a boatload of extensions available to provide for just about everything you could think of
Some of the most popular extensions include Product Addons, Table rate shipping, Product CSV Import Suite, WooCommerce Subscriptions, Dynamic Pricing and Bookings.
Free Extensions
And the best thing is WordPress.org is home to lots of great free extensions designed specifically for WooCommerce, made by other developers including the Admin Bar Addition, Delivery Notes, Affiliates Integration Light, Custom Product Tabs Lite, PDF Invoices and Packing Slips, Sequential Order Numbers, New Product Badges, Google Analytics and the WooCommerce Customizer.
Search WordPress.org for WooCommerce to see everything that is available.